Ben's Emergency Medical Services Dedication Page
Prehospital Provider Overview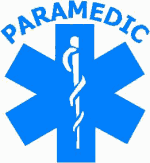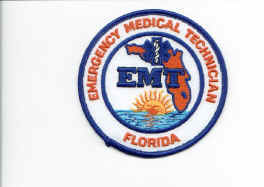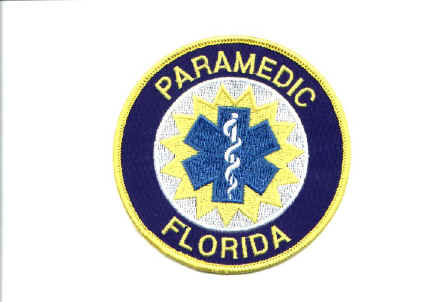 Scroll down for a description of the various prehospital providers
EMS Links
I worked as a Paramedic/Attendant/Firefighter for Alachua County Fire Rescue from 1998-2001. Prior to full time employment, I volunteered as an officer with the ACFR Reserve Division for several years. I obtained EMT certification from Broward Community College in 1994 and the paramedic certificate in 1997. A big thank you to Joe Jones, EMT-P, for believing that paramedics are more than monkeys.

Without further delay, welcome to the EMS Provider overview:

I. The EMT:
This prehospital professional undergoes a minimum of about 200 hours training. The EMT, or emergency medical technician, is an entry level provider that is responsible for basic life support. Often assigned to ALS ambulances as crewmembers and driver/operators, the EMT can administer oxygen and provide automated external defibrillation. The state of Florida only recognizes the, "EMT-B," or basic level of training. Most firefighters are trained to at least the EMT level.
II. The EMT-Intermediate
Different states recognize a variety of EMT training programs. In some states, there are not enough paramedics to staff ambulances. Funding for paramedic level services may not exist, and intermediate level providers fill needed gaps in emergency medical care. An EMT-Intermediate typically receives additional training in IV therapy and certain emergency medications. EMT intermediates can also recognize cardiac dysrhythmias and provide electrical therapy. Some states recognize a, "cardiac" level of EMT provider that is authorized via protocol to administer anti-arrhythmic drugs.
III. The EMT-Paramedic or EMT-P
The EMT-paramedic functions as the medical, "leader" of a prehospital team. Many firefighters are trained to provide paramedic services. To be credentialed as an, "Advanced Life Support" provider, ambulances and fire rescue/EMS agencies must have paramedic providers on staff. Alachua County Fire Rescue, for example, operated ALS Engines and ALS Rescue Units. Each fire truck and ambulance, therefore, had at least one paramedic aboard. The, "paramedic/attendant" was charged with the supervision of patient care and necessary documentation. Paramedics receive at least 1200 hours of training in advanced life support, physiology, trauma care, pharmacology, and rescue airway techniques. Paramedic providers perform invasive procedures necessary to treat life threatening illness or injury. In many community colleges, an associate's degree is required for paramedic certification. Paramedics then sit for a state or national examination and are certified for a period of two to three years.
IV. Specialized EMT-Paramedics
Paramedics can pursue additional training in prehospital care and transportation. Flight paramedics complete the AMCC or air medical crew core curriculum prior to assignment of flight duties. The University of Maryland offers a Critical Care Paramedic certification course designed to familiarize the paramedic with the drug drips and infusions commonly utilized in the intensive care setting. Paramedics assigned to pediatric transport teams typically complete training in neonatal resuscitation and advanced pediatric life support. The Critical Care Paramedic, or CCEMT-P course, lasts for approximately two weeks and is adapted from the CCRN curriculum. This course is highly recommended for prehospital providers seeking employment with hospitals or specialized interfacility units.

V. Other Prehospital Providers and Professionals
Medical directors supervise the operation of an emergency medical service. These physicians provide medical quality assurance, protocol review, and leadership to field paramedics. Generally speaking, medical directors must be licensed as an osteopathic (DO) or allopathic (MD) physician with experience and/or residency training in emergency medicine. Indeed, fellowships are available for emergency medicine physicians who desire additional training and familiarity with the chaotic and challenging realm of prehospital care.
First responders are individuals who have completed an approximately fifty hour course in advanced first aid techniques. Though often not regulated by individual states, these providers are often found in small or volunteer departments. A national registry of first responders is maintained by the NREMT. Regulations vary between the states, but certification by the national registry is not required. Typically, first responder students complete a department of transportation course sponsored by the National Safety Council, American Red Cross, other other EMS training agency.
Mobile Intensive Care Nurses are registered nurses who complete additional training in prehospital advanced life support. Some states mandate a specialized course in advanced airway and cardiac resuscitation techniques. These nurses can be trained to provide assistance with on-line medical control or actually ride along with EMT's and paramedics and provide advanced life support in a field setting.